:: AN ORIGIN STORY ::
2013
In 2013, the Culture of Coffee transmedia project developed by Metasebia Yoseph was produced with the intention of exploring and preserving the history and culture the world's most beloved drink. However, nearly a decade later, millions coffee lovers still lack a connection to the origins of coffee and the rich traditions that surround it, while millions of coffee farmers remain unable to extract economic value from their vital agricultural creations.
Coffee is our muse, our hero—but what's a hero without an origin story"?
Blockchain and NFTs are proving to be amazing tools in the preservation and storage of cultural information and metadata. Using these technologies, we have the opportunity to make coffee's origin story more innovative and widely accessible, with traceable provenance baked in.
:: MORE THAN A BOOK ::
As a transmedia project, Culture of Coffee, continues to explore the power of medium in transmitting cultural stories and uniting communities. This crowdfund will go towards the production of special 10-year Anniversary digital and hardback editions of the book which includes updated research and scannable pages that unlock multi-sensory and augmented content.
In addition to these phygital components, this genesis NFT-Crowdfund launch offers our backers NFT / token-enabled access to the project's virtual gallery, archive of 3D cultural coffee artifacts, and, $COFFEE tokens --which establishes pre-mine access to the project's community currency and governance abilities in the future $COFFEE HOUSE DAO.
:: PRESERVING THE PAST TO TRANSFORM THE FUTURE OF $COFFEE ::
This public launch serves as the genesis for the Culture of Coffee project's Web3 relaunch, as noted in Season 1 of our project Roadmap .
Throughout these seasonal milestones $COFFEE tokens will  be used to represent your evolving membership and stake in our project's community, enabling access to token-gated private channels in the COFFEE HOUSE discord and Culture of Coffee website, as well as, voting abilities that shape the project and future DAO governance. Tokens can also represent a potential economic stake in the project's future success as future revenue is routed back to the token.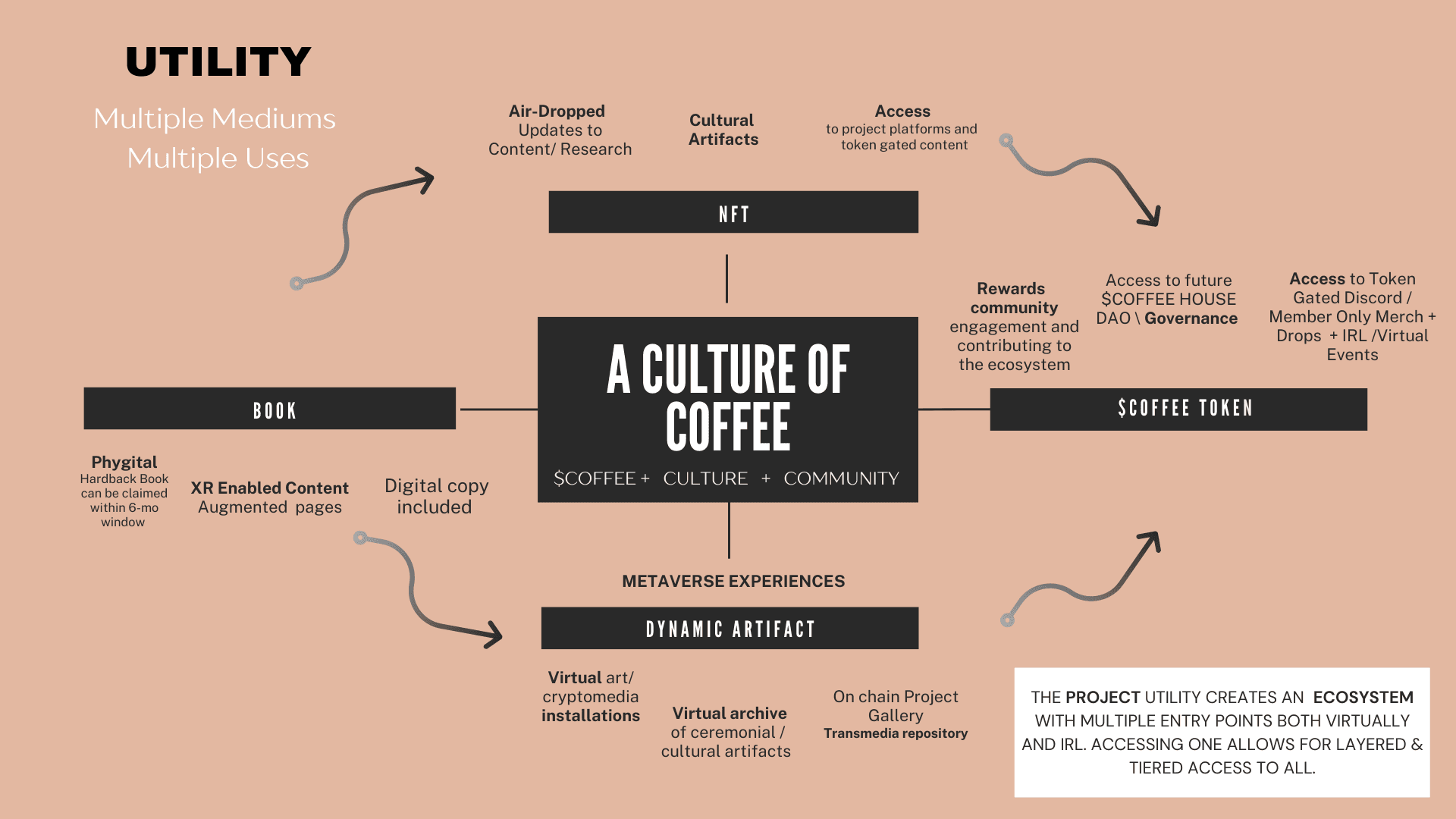 Once this dynamic transmedia artifact is launched and the last anniversary-edition book has been distributed, our goal is to build on the tokenomics of $COFFEE to create real-world benefits for its holders through virtual + IRL activations, DAO governance, investment, and community-led proposals.
:: DISRUPTING WEB 2 COFFEE ::
Guided by the project's inherent cultural and social value, this united $COFFEE community will seek out opportunities that leverage our collective influence to disrupt traditional web2 paradigms in coffee through experimental partnerships and use-cases.
Some use-cases and initiatives have already been explored in collaboration with community members during Open Lab sessions and other virtual gatherings via Culture of Coffee's limited weekly Twitter Spaces series: #COFFEESOCIAL, which sought to unpack this multi-disciplinary project and its capacity for social innovation.
Sample Projects for future $COFFEE HOUSE DAO
Crypto-enabled Cafè
Global Network of Cafès that transact in / offer perks to $COFFEE holders
Token/ NFT-enabled curated coffee subscriptions that financially empower farmers.
Gamified Coffee Farm in the Metaverse that connects $COFFEE holders and connoisseurs with linked specialty farm and farmers, in real time.
:: ACTIVATING A GLOBAL COMMUNITY OF $COFFEE LOVERS ::
We seek to build a future where $COFFEE holders can transact with cafès and other related coffee businesses, indie brands, products, and services with the aim of seamlessly aligning our core values and mission to strengthen global coffee culture by uplifting narratives and demonstrating new models in coffee sourcing and production.
Are you a coffee enthusiast interested in collecting and preserving the origins of coffee culture, while actively shaping its future?
Do you want to scale an exciting community-led transmedia project that has the potential to disrupt traditional web2 coffee paradigms ?
Let's build a world as rich as the coffee in our cups!
CONNECT WITH US
Twitter: @cultureofcoffee
Discord: COFFEE HOUSE
Mirror: Culture of Coffee
Instagram: @cultureofcoffee
Website: cultureofcoffee.com
TEAM
Metasebia Yoseph is a multidisciplinary artist, curator, and product manager with over a decade of experience working at the intersection of art and technology. She has produced a number of experimental cultural projects, writings, exhibitions, and community-based events.
Brook Getachew is a visual artist, designer, writer, founder as well as brand and community builder. Brook's artistic work is a meditative question on existence as he uses his experience as a mirror for others to pause and experience theirs. For more than 5 years, Brook has been helping startups, founders, artists, and individuals build a top of mind brand by finding values, and causes their communities resonate with.